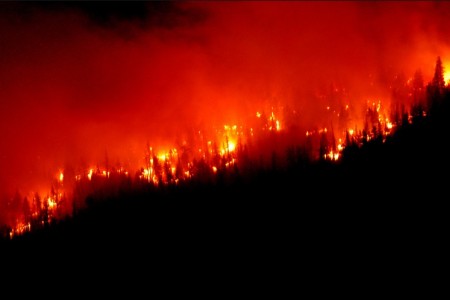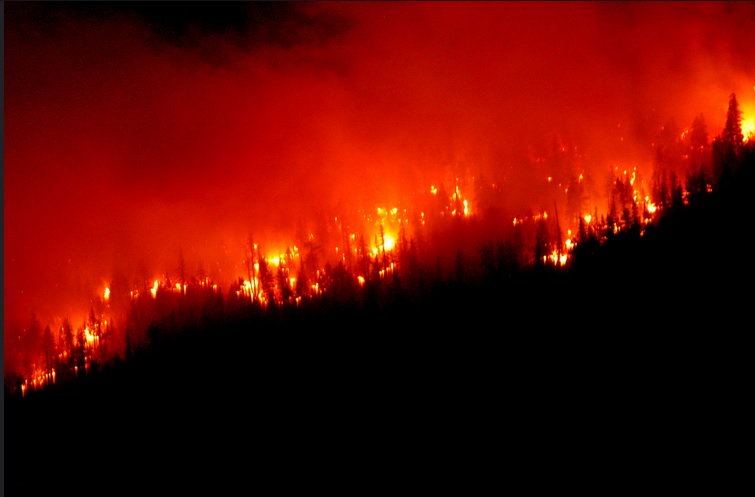 What does it take to pull together a coalition of diverse stakeholders to prevent wildfires from growing explosively in the western United States? Blue Forest Conservation (BFC) is listening to a broad range of views as it seeks to build traction for the Forest Resilience Bond (FRB) on the local, state and national levels to reduce wildfire intensity.
The FRB will bring in private capital to fund ecological restoration to quiet wildfires in California and Colorado. It may expand to other states later. This collaboration is pioneering new ways to leverage financing and build partnerships. It is creating a model that other large-scale conservation projects may be able to imitate.
This synergistic approach provides insights for the conservation finance field as a whole. Building a collaborative and diverse coalition is key to bringing private finance in to protect the West from wildfire damage. The coalition includes federal agencies, indigenous communities, academic researchers, social entrepreneurs, and legal firms.
"On a high level, the reason why groups like The Rockefeller Foundation fund this work is not just that they want the FRB to be successful. It's to help build the field and show private capital can have a role in public conservation," said Leigh Madeira, cofounder and partner at BFC. "That's a big goal for us as well."
Federal Partnership
"The backbone of what we're doing depends on cutting-edge science being incorporated into innovative contracts," said Zach Knight, cofounder and partner at BFC. "We've got some great law firms doing pro bono legal work for us."
Developing new forms of contracting can help bypass some roadblocks that would otherwise hold back financing partnerships with the public sector. Bringing together the private sector and the public sector requires finding the strengths of each partner organization.
"We signed an MOU with the Forest Service last year," Knight said. "It is the first MOU with an investment firm in the history of the Forest Service. We also work with California state agencies such as the Sierra Nevada Conservancy."
The team is developing workarounds to streamline and simplify its collaboration with the Forest Service. This is because administrative delays can occur unless financiers are creative in setting up their partnership structures with that specific agency.  
"In utilizing cooperative agreements with the Forest Service, the implementation partner can actually take on the responsibility of letting the contracts on behalf of the Forest Service and managing the projects on the ground. This relieves the Forest Service of a significant burden and allows us to get funds deployed more quickly," Knight said.
When the Forest Service contracts out the implementation process, that removes roadblocks that might prevent financing from reaching its destination.
"One thing we learned from this process was that the contracting officers in most national forest units will have a stack of papers on their desk a mile high," Knight said. "And even when money comes in, the staff might not be able to get those contracts out the door in a timely basis. This makes working with a group like the National Forest Foundation, who will provide support on this front, so valuable in helping to manage the process."
From the Forest Service's perspective, wildfire prevention continues to be a high priority.
"The Forest Service thinks about wildfire risk reduction every day," said Tommie Herbert, national conservation finance lead at the Forest Service. "It is not just about wildfire suppression; we are also working to be more proactive."  
In 2015, the agency published the Wildfire Hazard Potential (WHP) map through Fire Modeling Institute to help inform evaluations of wildfire risk and support prioritization of fuels management needs across large landscapes.
The MOU with BFC is the first step in a larger strategy for the Forest Service. This agency is working to create the conditions for public and private collaboration to address some of the most crucial issues it faces, like enhancing the health of watersheds and creating forests resilient to wildfire.
"The FRB pilots are helping to demonstrate to Forest Service leadership how conservation finance partnerships and innovative finance can help accelerate resilience of landscapes and communities to multiple stressors," Herbert said. "We are working with BFC to identify other locations that are ripe for this exciting model."  
"Making a substantial reduction in wildfire risk requires large-scale land treatment," Herbert said.
"What's interesting for us about private finance is that there is a new type of for-profit entity emerging that is focused on positive social, community and environmental impacts. In many cases, these financial returns are predicated on ecological uplift," Herbert said. "If the Forest Service can find ways to collaborate with entities like BFC, we have an opportunity to work at a scale that meets the needs of the landscapes and communities we help steward."  
Madeira said she is enthusiastic about how private capital can create broad, powerful results for effective conservation outcomes.
To make this large-scale conservation project happen, creating a diverse stakeholder coalition has been essential. Building these strong relationships through constructive discussions takes time and effort. This groundwork can then yield large-scale results that improve public health, economic growth, and environmental wellbeing.
"There is a huge need for investment in the environment and at the same time investors have demonstrated interest in getting involved," Madeira said. "We are trying to bridge the gap to infuse a new source of capital into conservation."
The Forest Resilience Bond website lists all of the partners involved in this multi-state effort. The development team includes BFC, World Resources Institute, and Encourage Capital. Two universities, forest collaboratives, and a federal agency are also involved – including the United States Forest Service.
Academic partnerships with Stanford University and the University of California System are resulting in constructive collaboration with hydrologists, mappers, economists, modelers and scientists. Research on the results of the bond will show what the benefits, outcomes and challenges are.
Project Design
"The work we're doing now is designed to restore ecological function and to reduce the risk of catastrophic wildfire – as opposed to the restoration and reforestation work that the Forest Service and other groups do coming in after a large, damaging fire," Knight said. "Fire still needs to be part of the ecosystem. And we hope this work will allow a national fire regime will return."
When Knight and Madeira were in a graduate program at the Haas School of Business at University of California-Berkeley, they collaborated with two classmates to compete in the Kellogg-Morgan Stanley Sustainable Investing Challenge.
Together, they pitched the idea for the FRB to finance wildfire prevention through environmental restoration in California and other states. Academic research showed the steps that needed to happen, but there was no financing tool in place to route private capital into this investment. Since then, they have developed the FRB and have met many stakeholders along the way.
"We said, 'Let's take our lens and ask ourselves, 'How do we go from recognizing the value that is created by doing this work to actually figuring out how to finance it?''" Knight said.
Looking at the flow of funds is the best way to understand how the bond will work, Knight said. "For each one of these pilot projects and eventually for the larger watershed-scale restoration projects, we're going to be setting up what is called a special purpose vehicle."
Knight said the legal structure of the vehicle will allow the financing to provide funding to an implementation partner, such as the National Forest Foundation, and serve as a pass-through entity to provide returns to investors. "The financing vehicle we set up will be its own separately-set-up, bankruptcy-remote issuing entity. Dollars from investors will go to that entity. They then will be passed through to an implementation partner."
The FRB team plans to complete the restoration work within the first year or two of the project, Knight said. Evaluation will take place while the work is being completed. This will include metrics that will provide financial return to investors through both cost-share and performance-based contracts.
"Some of the stakeholders will pay as the initial work is done and others will pay over the next 10 years," Knight said. "As that money comes back into the FRB, that money will be passed through to repay the initial investors." 
The Forest Service, state agencies, and/or utilities will make cost-share payments. Utilities may also make performance-based payments.
"We're also thinking about how you could use this mechanism for other environmental interventions," Knight said. "That is a really important part of this mission."
Jobs Creation
Building employment into the bond's results is a goal that the FRB team said is important. This includes not just jobs in forest restoration, but also other positions in related fields. For example, local residents could use biomass for energy or manufacturing.
Rural communities in the West where forest fires are occurring tend to have lower incomes and higher unemployment than neighboring areas, Knight said.
By hiring locally, the FRB can "keep dollars in these communities," Knight said. "That's a really critical part of this program to highlight. In a way, these projects are temporary because they only last a few months to a couple of years. But if we can find a way to finance the implementation of more of these projects, then those can be ongoing jobs."
Looking for local workers is part of the process of developing the implementation team.
"Depending on project location, often there's not enough folks available to implement these restoration projects. That's a serious bottleneck but also an opportunity for job creation," Knight said. 
Native Americans are among the potential hires whose jobs the FRB team may finance.
Last year, "Zach and I went out to a national forest and met with the Dinkey Collaborative," Madeira said. "They had a pretty wide range of stakeholders involved, including the local Native American tribes. It was great to see everyone with a lot of different interests and a lot of common goals coming together and talking about how they could better invest in the forest and make it more resilient for everyone."
Knight and Madeira said they see it as essential to listen to the forest collaboratives and other stakeholders when they reach out to them.
"We don't want to ever be telling stakeholders how to manage their forest or where this work should happen," Knight said. "We want to say, 'Once you've done all the scientific and social work that needs to happen here, we want to come in and provide additional resources to these high-functioning collaboratives to help them implement the projects that they already want to do.'"
Note: Natural Resources Conservation Service and the United States Forest Service are two funders of Network.
To comment on this article, please post in our LinkedIn group, contact us on Twitter, or use our contact form.