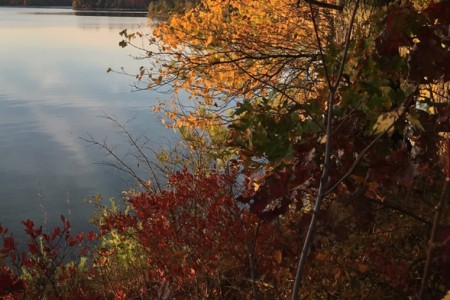 Have you seen the brilliant crimson and amber of fall foliage in New England? Every year our trees make tourists and natives alike stop and stare in amazement as our region's forests put on a final show in preparation for winter. But our vibrant forests are at risk.
New Englanders are losing 65 acres of forest per day, or 24,000 acres per year, to dispersed and fragmented residential and commercial development. If this trend continues, the region will lose another 1.2 million acres — an area nearly twice the size of Rhode Island — over the next 50 years. And it is not just the fall fireworks that we stand to lose.
A Fresh Vision
In September, Harvard Forest, Highstead, and New England Forestry Foundation published a new report: Wildlands and Woodlands, Farmlands and Communities: Broadening the Vision for New England. My co-authors and I documented the ongoing threats to the ecosystems and economies that connect our rural communities with our urban centers. We laid out a vision for protecting 70 percent of New England as forests and at least another seven percent as farmland.
At its core, the vision is about maintaining the natural infrastructure that provides us with the critical goods and services we need in our communities. These include clean air and water, outdoor recreation, wood products, and local food. Fortunately, we can choose to protect these assets and use Smart Growth principles to grow our economic base without sacrificing our farms and forests.
These are the forests that soak up the water from raging storms. The forests that offset more than 20 percent of the region's carbon dioxide emissions. The forests that provide an estimated $500 million in health benefits annually by removing 760,000 tons of air pollution.  And the forests that contribute billions of dollars more to the region's economic engine through timber management, tourism business, maple syrup, and outdoor sports.
Discussions about major infrastructure spending across the United States still largely ignore the role cost-effective natural infrastructure solutions can play in reducing the impacts of the double-whammy of land use changes and climate change impacts. Investing in our natural infrastructure today can help mitigate more crushing bills down the road.
Recently, conservation finance experts from around New England and the United States put their heads together on how we'll raise the capital needed to achieve the vision. The group made the case for expanding and replicating some existing successes, such as the Natural Resources Conservation Service (NRCS) Regional Conservation Partnership Program, which has already invested $53 million in 23 collaborative projects in the region. Or the Massachusetts Community Preservation Act, which caught fire at the local level and inspired 172 towns to invest a portion of their property taxes in the protection of their forests and farms to the tune of $1.75 billion since 2000. But we need more resources. A lot more.
Achieving the Wildlands and Woodlands vision could cost $23 billion over the next four decades. That may sound expensive, but it is the equivalent of about one latte per month for each New Englander. A small price to pay, considering how much we rely on our forests.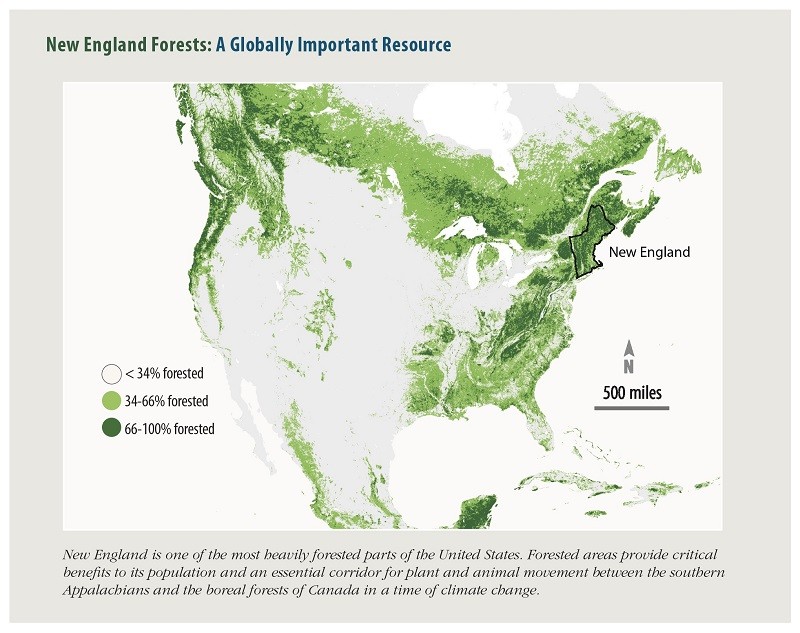 A History of Innovation
New England has been at the forefront of conservation innovation in the United States, claiming the first public open space, the first land trust, the largest working-forest conservation easement, and the first Forest Legacy Program conservation project.
As the field of conservation finance grows, New England has continued this tradition with the first forest-carbon-offset project for the California cap-and-trade market, the first green bond for land conservation, innovative corporate-sustainability partnerships, and niche impact investments in organic farming, to name a few.
It is now time to innovate again and get creative with private financing from impact investors, those who seek environmental and social uplift along with financial returns.
New England is home to unrivaled conservation capacity in the form of more than 40 Regional Conservation Partnerships, hundreds of local and regional land trusts, and thousands of landowners striving to protect their legacies on the land. In the last decade, conservation easements accounted for more than 70 percent of newly protected and predominantly privately owned land. Landowners and their conservation partners are beginning to identify new sources of revenue that can help pay for conservation.
For example, $25 million has already been realized in carbon offsets in New England, with another $75 million in offsets on their way to the California market. Hospitals and insurers are already looking for ways to capitalize on nature's ability to reduce chronic health care costs. And NRCS is providing venture capital to entrepreneurs to identify new ways to finance infrastructure, food and fiber.
It is clear that public-private partnerships are the way forward in conservation finance, but private investors must be able to count on consistent, predictable public funding programs.
I mentioned a few bright spots in innovative public support for conservation. But overall state and federal conservation investments in New England dropped by half to just $62 million per year since a peak in 2008. This precipitous decline — largely due to the gutting of several state conservation programs — shows short-sighted governance.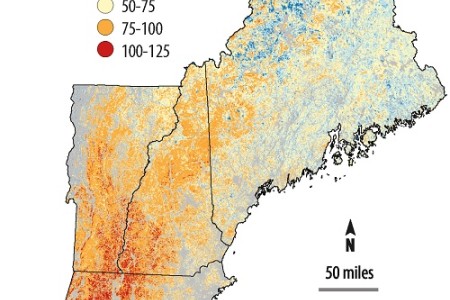 A Call to Action
It is time to accelerate investments in our natural infrastructure. First, that means bolstering federal conservation finance initiatives, such as some of the conservation investments being considered in the 2018 Farm Bill. Second, it means calling on our states to up their game with state conservation investment goals. Third, we need to continue to bring our best conservation and finance minds together to identify new opportunities. Then we will be poised to show sustainable investors that New England is a good bet for their investments in sustainable fiber and food, clean water, and carbon sequestration.
Our forests provide low-cost natural infrastructure solutions for filtering our water, cleaning our air, reducing impacts from floods, and keeping us healthy. Those investors and their community partners who sow seeds today will harvest crops of reduced costs tomorrow. As a bonus, our future citizens will enjoy the same archetypal landscape New England has provided for generations. Under the Wildlands and Woodlands vision, New England has another 23 million acres of forest and a lot of farms to conserve. So whether you seek financial returns, conservation impact, or both, come to New England for the foliage and stay for the investment.
This op-ed is by Spencer Meyer, senior conservationist at Highstead and associate at Harvard Forest. He is an author of the Wildlands and Woodlands report, a New England native, and a website leadership team member of Network. You can follow him on Twitter @SpencerRMeyer.