In Brief
What makes City Forest Credits' math different? The organization says it calculates the gains to air quality, energy savings, health and employment from targeted tree planting. 
The organization works to marry cities and nonprofits around tree-planting projects, which the nonprofits sell to cities or corporations. 
Are we looking at a model for employing young people, suppressing heat-related suffering, and cleaning toxic air in urban communities? Our reporter examines the idea.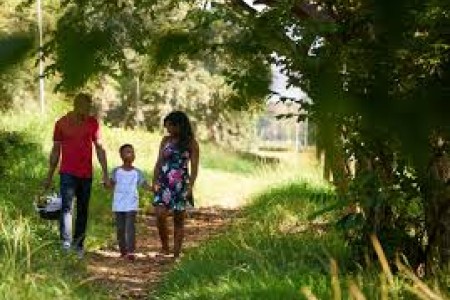 In 2007, the city of Austin, Texas set a goal to achieve carbon neutrality by the year 2020. Coupling reductions in overall emissions with the use of approximately 5,000 annual metric tons of carbon offset purchases, the city of Austin has remained steadily on track to meet their net zero objectives over the course of the past decade. One element of the city's success on this front can be attributed to its work with a non-profit organization dedicated to urban reforestation: City Forest Credits.
City Forest Credits is a Seattle-based carbon registry that works to facilitate access to funding for the planting and protection of urban trees. It describes its mission as one to make "American cities greener, healthier, and more equitable." (A company leader held forth on the model in a recent CBEY webinar.) Their central innovation, which has enabled the planting of thousands of trees across several cities, is the creation of what they call Carbon+ Credits. 
These credits are unique in that they quantify and encompass the suite of ecosystem benefits associated with urban trees - namely, rainfall interception, air quality benefits from particulate removal, and energy savings in reduced heating or cooling needs. In quantifying these additional benefits on top of the metric tons of CO2 captured in urban forests, City Forest Credits is able to concretely identify the many positive impacts that a tree planting project can have on an urban community, thereby generating carbon credits that non-profit tree planting organizations can sell at a premium price to garner funding for their planting projects. City Forest Credits uses data from the U.S. Forest Service's survey of ~14,000 trees in 17 U.S. cities to estimate these co-benefits based on 365 sets of tree growth equations developed from information on bole and crown size, location, age, and species.
A typical project might unfold as follows. First, interested municipalities or non-profits submit to City Forest Credits a project application outlining the scope of their prospective planting project. If the proposed project satisfies the location, preservation, monitoring, and reporting requirements, City Forest Credits approves and uploads the application to their online project registry, which is then populated further with documents specifying the project design and associated issuance of Carbon+ Credits. Project operators - i.e. the local tree planting non-profits - can then sell the carbon credits generated from planting trees in the city to corporate or municipal buyers, who can, in turn, use these credits to offset their own levels of energy consumption. In this sense, City Forest Credits acts as an intermediary connecting funders of urban tree planting projects to organizations willing to dedicate time and effort to restoring urban forests. In exchange for their work, City Forest Credits receives an application fee and a small percentage of the credit revenue.
In general, the market dictates the value of the credits, with individual project operators handling the negotiations with prospective buyers. As a carbon registry, City Forest Credits does not set the price of the credits, but they "encourage [project operators] to treat them as premium credits," since their proximity to local communities creates more utility than "a forest carbon credit that is far away from people," said Liz Johnston, the Director of City Forest Credits, in an interview with the Network. 
The city of Austin, for instance, has purchased Carbon+ Credits at a rate of around $35 per metric ton of CO2. "We could buy credits off the carbon market for around 5 of 10 dollars a ton, but we think [Carbon+ Credits] are more than worth the extra cost because of the water, cooling, and aesthetic benefits that are being generated in the city," said Zach Baumer, the Climate Program Manager for the Office of Sustainability in Austin. 
In facilitating economic assets and ecosystem services, Carbon+ Credits illustrate how tools of conservation finance may help cities navigate the post-coronavirus economic downturn. Below, we highlight four pillars of this path.
 Job Creation 
 Interested in generating a positive impact on the community that hosts its largest data center, Microsoft partnered with Trees Forever, an urban forestry-based non-profit, and City Forest Credits in May 2019 to create a tree planting project in Des Moines, Iowa. Having secured Microsoft's agreement to purchase the carbon credits, Trees Forever was able to use a portion of these pledged funds to create a project called Growing Futures, a workforce training program for young adults in the city. With Growing Futures, Trees Forever employs "teenagers to plant, water, and care for trees around the city" and provides them with access to "professional development training . . . covering things like resume building, financial literacy, and green job shadowing," said Leslie Berckes, the Director of Programs at Trees Forever. These teenagers engage in around 8-20 hours per week at a rate of $10-15 per hour for 5-10 weeks.
For the approximately 50 youth workers employed and roughly 400 volunteers engaged in this tree planting project , "the impacts will go much beyond this one project," explained Johnston. "They're getting paid to plant trees . . . but they [are] also gaining technical skills that they can take beyond the program."
Thus, in light of the current economic turmoil, which has left many young adults seeking work, tree planting projects operated through City Forest Credits may offer a token of relief. Though the recent state lockdowns have left organizations like Trees Forever in ambiguity regarding the viability of current planting operations, Berckes remains optimistic that planting can continue in the near future. "We're trying to get creative in how we can still plant, so we're experimenting with social distancing plantings," she said, which may enable their staff to "get trees in the ground . . . [before] we run out of season to plant." 
 Public Health
 A second benefit of Carbon+ Credit projects stems from the varied public health benefits that cities enjoy from the presence of additional trees. "Trees are a public resource . . . our citizens' and residents' health and wellness depend on them," explained Johnston. This is especially true, Beale added, "right now . . . [when] the only refuge that people have outside of their homes is . . . our green spaces."
Note, for instance, the findings of a 2018 study published in the Society of American Foresters, which found that urban forests in the United States reduced national energy use for residential heating and cooling by around $5.4 billion per year, precluding the emission of thousands of tons of air pollutants (such as sulfur dioxide, methane, carbon monoxide, etc.). With data from the Harvard University T.H. Chan School of Public Health indicating that those living in regions with high levels of air pollution are around 15% more likely to fatally contract Covid-19 than their counterparts in low particulate regions, the benefits of urban forests in reducing city pollution should not be understated. Moreover, the United States Forest Service estimates that shade from trees can reduce peak summer temperatures in cities by around 2 to 9 degrees Fahrenheit and keep asphalt surfaces cooler by up to 36 degrees Fahrenheit. In this way, urban planting projects can ameliorate the urban heat island effect, a phenomenon whereby metropolitan areas experience heightened temperatures due to increased clustering of human activity. 
"When you invest in purchasing offsets, you're not just doing it for the carbon offsets. You're doing it for people. You're doing it for your employees, for your shareholders, for the livelihoods of people, right where they live, work, and play," summarized Johnston. Moving forward, as people continue to spend more time in their neighborhoods, having a green environment is going to be crucial for human health, she explained.
 Localized, Budget-Friendly Impact and a License to Operate
 City forests are not only beneficial for urban communities grappling with the fallouts from the current coronavirus pandemic; they generate meaningful, cost-effective assets for corporate buyers as well. For Microsoft, engaging with City Forest Credits has enabled the company to "build positive relationships and have a positive presence in the communities that we operate in," explained Holly Beale, who leads Environmental Sustainability for Microsoft's Datacenter Community Development team. In addition, such planting projects allow Microsoft to provide "volunteer opportunities for employees to be part of the ecosystem of organizations in the community . . . which is great for employee retention and employee satisfaction with the neighborhoods that they live in," says Beale.
 Getting involved with philanthropic projects such as tree plantings can further contribute to a company's societal license to operate. "We conduct sentiment analyses of the community" to gauge the perception of their presence in the city, and "we've seen really positive trends" since getting involved with City Forest Credits, says Beale. "We're really proud to be one of the first organizations to support this initiative, and I'm excited to see other companies getting involved."
 What's more, investing in a local tree planting project does not need to strain company or municipal budgets. As Baumer explains, with these types of projects, "we're only talking about investments of 5, 10, or 15 thousand dollars," which is reasonable enough that "we can continue to do that" even amidst a tougher economic environment.
 For Microsoft and the City of Austin, another advantage of these tree planting projects is that they offer an avenue to create localized impacts for their communities. "Giant carbon projects in regions of the Amazon or in China . . . help the company reach our carbon neutrality goals, but they're not necessarily aligned with [the places] where we have operations," explained Beale. With City Forest Credits, "we can diversify our portfolio [of investments] and have quantified, reportable outcomes" for how investment is impacting the local communities in which they operate. 
In fact, Microsoft ended up donating the carbon offsets they bought from this project to the city of Des Moines. As Beale explained, "we could have kept those credits, but the portfolio of credits that we need to meet our neutrality goals as a company is very large," meaning that the bulk of these projects' materiality for large companies like Microsoft stems from the opportunities they provide to diversify into local communities, rather than purely from the credits' carbon offset potential.
 This perspective holds within the context of municipalities, as well. Speaking about the city's vast carbon offset needs in comparison to the relatively modest amount of credits generated through City Forest Credits, Baumer agreed that "it'd be hard to use city forest credits as our only offset . . . [but] there's the idea that taxpayer dollars should not send money to an offset project that's super far away." In this sense, "the creation of credits locally is a big value" to the city.
 What's Next for City Forest Credits?
 As can be seen, urban forests hold potential benefits for businesses, governments, non-profits, and communities as they navigate a new, coronavirus-induced economic order. Going forward, City Forest Credits plans to launch an Impact Certification program, which will operate analogously to traditional planting projects but will not generate carbon offsets. Instead, Impact Certification provides funders with a metrics-based Impact Report and "shovel-ready" planting projects that are certified by City Forest Credits, connected to approved project leads with formalized project designs, offer opportunities for employee engagement, and drive action towards corporate sustainability. "The time and commitment of the carbon program just doesn't work for everybody," explained Johnston. These certifications will enable companies that "want to be able to invest in a local community and get a standardized, metric-based set of impacts that they can report on" to do so, without committing to a long-term preservation schedule. This ensures that "smaller towns, companies, or non-profits that just don't have the funding to do a really large-scale planting project" can still find a way "to get trees in the ground," said Johnston.
In Austin, Baumer sees potential in partnering with City Forest Credits to execute tree projects in surrounding suburbs, where there is more space to plant than in the city center. "That's an idea that we have - to grow [the program] out into a broader metro area and not just have it be an inner-city thing," he said.
 Furthermore, Berckes with Trees Forever believes that there is plenty of opportunity to begin planting trees on private land, rather than simply public areas. "In Iowa and Illinois, where it's mostly private land . . . we'd like to work with private landowners to do more planting and carbon certifications." Berckes views these projects as critical facets of the solution to the region's gulf hypoxia (i.e. water oxygen depletion) problem. 
 "Whether it's buying carbon offsets from trees that are planted and protected in cities, or [simply] using the premium credits as the cherry on top of a portfolio of different projects," these city forest projects can create tangible, quantifiable, and reportable impacts on local communities, says Johnston. If they cultivate public health benefits and generate job opportunities for local youth, such projects may mitigate some burdens associated with the Covid-19 pandemic.