In Brief
When do you add value by not adding? When you're strategically and collaboratively sustaining open space in challenged communities. 
Three case studies from New England show how partnerships across public and private lines boost land value and local economies in urban and rural contexts. 
In each one, some creative financing and a lot of respect rewrote the formula for economic success- and offered clues to advocates and officials anywhere.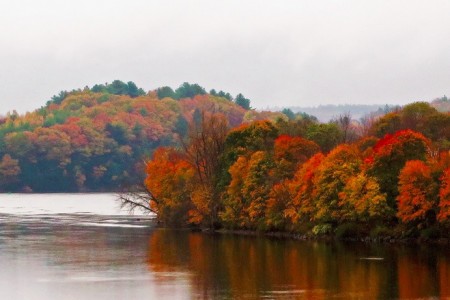 American investors relying on conventional wisdom once assumed that investment flows up into office towers or out across retail lanes and factory production lines. When Covid-19 spurred restrictions on crowds, Americans had to peer into a shadowy economic future. Land and recreation systems that can connect people safely, with fresh air and space to roam, suddenly look like they're bursting with value. 
For land managers and leaders in some communities, that appearance doesn't seem so new. 
Three new case studies from conservation science organization Highstead showcase the Wildlands and Woodlands vision and demonstrate how collaborations to protect land in New England pay off in employment, tax revenue, and housing investment. In each process, local leaders with heft in capital, policy and community trust worked together to craft an outdoor-focused strategy that encouraged economic growth. (Highstead forms part of the Network partnership.) 
The case studies focus on land types that leaders across the nation can analogize to their home turf. The one-time sawmill hub of Bethel, Maine preserved a forest to attract year-round visitors and residents. A coalition around Grand Lake Stream, Maine sustained over 600 jobs when a big employer and other stakeholders formed a land trust to purchase acreage that was starting to attract speculators. They are evolving the land as a public forest. And in Stamford, Connecticut, the city government dealt in with landlords, residents and the Trust for Public Land to conceive and deliver a 28-acre park on a discarded dam to boost property value and activity in the city core. 
In Bethel, Maine, researchers learned how local leaders literally connected their interests to boost overall activity. The town's economy had once relied on sawmills and needed a reset. Officials set out to link  900 acres of Bethel Community Forest to  2400 town-owned acres - and from there to 8000 acres belonging to the Sunday River ski area and the Appalachian Trail beyond.
The connections, visible through multi-use trails, helped bring dedicated mountain bikers and other year-round athletes to the area. That consistent inflow helped drive homebuilding for retirees and other buyers who've warmed to the mix of sports and views that the strategy made possible. Those homebuilding jobs helped temper the economic effect of sawmills' closing. More broadly, an economic focus on open space can boost the supply of land and timber to guard against climate impacts - which can of course spell trouble for a ski area. 
Elsewhere in the Maine woods, businesses and residents and governments joined forces to sustain a forest and with it hundreds of jobs. The project started in the town of Grand Lake Stream, researchers say, when "an unspoken understanding with landowners that people who relied on the land could use it" seemed to recede under an upswell in land sales. A new outfit, the Downeast Lakes Land Trust, formed to seek ways to preserve land as a community forest- and Woodland Pulp, a surviving papermill that serves as the region's biggest employer, got on board. 
The mill's partnership meant that its hundreds of jobs would abide as long as the plan. That economic foundation helped drive work for guides, builders and travel professionals. A survey of 400 respondents in 2017 established that many visitors and new residents came to the area to get at the unspoiled land. 
Community cohesion comes delicately in rural areas facing transformation. Financing does too. The Downeast Lakes Land Trust agreed to pay property taxes on the forest, and raised money by selling forest carbon credits. Its staff and partners are also working with longstanding residents and working to engage young career-starters, in order to grow future streams of philanthropy. 
Of course, community cohesion and financing can also follow complex paths where people live on top of each other.  As its downtown drew more investment firms seeking space and developers building it, Connecticut's Stamford faced a choice about how to grow. In 1995, mayor Dannel Malloy convened a group of stakeholders with the Trust for Public Land to picture uses for a patch of land that officials had set aside as a park. What emerged for the 28 acres ended up as Mill River Park. It's still engaging landlords, reducing the city's floodplain, and providing space where residents and workers of all ages can relax and exercise. 
With an urban base and a lively real estate market, Stamford used tax increment financing to push the park forward, including work by the Army Corps of Engineers and collaboration with local schools. It's sustaining the city through this year of downtown silence- and can potentially reset its economy if office use after Covid changes permanently. 
The idea of choosing between conservation and economic vitality feels as stale as the idea of choosing between green energy and high-growth investment. Conservation creates economic interest when it makes places more attractive to visitors, to homebuyers or to office managers- all of whom have lately tended to reaffirm the importance of greenspace for physical and mental well-being.  These case studies- and several others from around the nation courtesy of our partners at the Conservation Fund- show how partnership, buy-in, layers of financing and place-specific programming can nourish land, landowners, and people looking for anchors in an economic storm. 
Jes Siart wrote the Bethel and Grand Lake Stream case studies. Julian Macrone and Evan Oleson wrote the Stamford case study. Jes Siart and Tara Whalen wrote the case-study overview.